Skill & Game Development - 1 on1 or Group Sessions for up to 4 players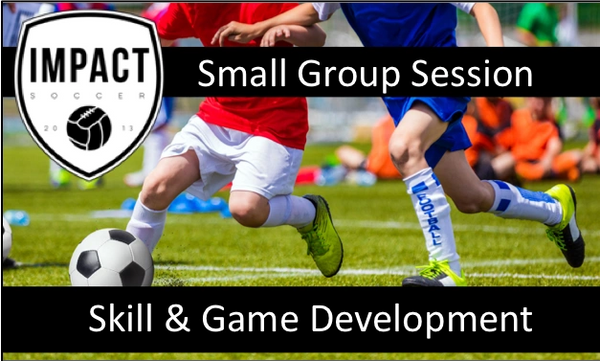 Skill & Game Development - 1 on1 or Group Sessions for up to 4 players
Skill & Game Development - 1 on 1 and small group coaching

Impact Soccer coaches deliver expert 1 on 1 or small group sessions to assist players with skill and game development.
All coaches are FFA accredited and work at the NPL and NPLW level in Victoria.  Sessions can be tailored to suit individual requirements and deliver results.
The most popular program is the "Goal Scoring" sessions, which focuses on scoring goals, movement and technique.

These sessions are designed for boys and girls age 9 to 15 playing at either community clubs or at NPL (WNPL) clubs. (Players born 2003 to 2009)

Coaching Program Details:
The Impact Soccer Skill & Game Development program are delivered in 1 hour sessions. They are designed for 1, 2, 3 or 4 players at the same time

Booking a sessions is very easy. Here is how to do it:

Select how many players will attend the session

Select the day and the hour you wish to attend

Finally, update the other player details including Parental Consent 

Session times:
Times flexible for all players.
Location:
Location flexible for all players.
Cost:
1 Player $85 - current special $65

2 Players $115 - current special $95

3 Players $140 - current special $120

4 Players $160 - current special $140


Please read the CODE OF CONDUCT
Players to bring, where possible, the following to all sessions: a hat or cap, sunscreen, runners and/or soccer boots, shin guards, change of clothes, water bottle, water proof jacket and healthy snacks (optional).  Due to high incidence of allergies, please refrain from including nuts or nut related products in snacks.
Please ensure you also complete the PARENTAL CONSENT FORM to ensure all emergence information is provided.
Now you are registering, share with a friend by clicking your social media preference.