Parental Consent - Celtic FC Clinics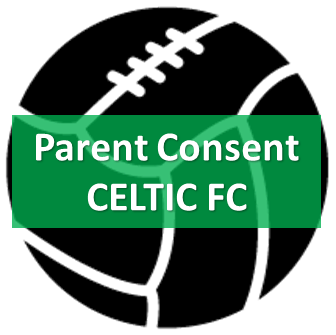 Parental Consent - Celtic FC Clinics
Parent Consent to Impact Soccer Pty Ltd for Celtic FC Camp in Melbourne
Please complete this form prior to your child participating in the Celtic FC Soccer Camp.
By completing and registering I, as parent / guardian / carer certifies I understand all details of this Parent Consent and all information is correct and accurate.
It is essential that you let us know as soon as possible if any of the information changes.  All information will be treated with confidentiality, sensitivity and respect, and will only be shared with those at Impact Soccer involved in relevant program.  All personal data will be stored and used in compliance with data protection legislation.
I wish to enroll my child in the Celtic FC Soccer Clinic in partnership with Impact Soccer and acknowledge that the employees of Impact Soccer are only responsible for the supervision and care of my child for the duration of the session, until supervision is handed over to the adult nominated as responsible for the supervision of the child (written details of nomination must be provided).
As noted above, by completing and registering I, the parent / guardian detailed certifies that:
The child named has permission to participate in the Celtic FC Camp with Impact Soccer.
It is the parent's or guardian's responsibility to ensure the registered child is picked up on time

or alternative arrangements made with Impact Soccer in writing 24 hours before the intended clinic

.
The child named should bring a hat or cap, sunscreen, runners and/or soccer boots, shin guards (optional), change of clothes(optional), water bottle, water proof jacket (optional) and healthy snacks (optional).  Due to high incidence of allergies, please refrain from including nuts or nut related products in snacks.
Impact Soccer can use all photograph, digital images or film taken during the coaching sessions for the purposes of advertising, publicity, marketing and promotion.
The parent or guardian is aware of the nature of hazards associated with soccer, soccer training and soccer related activities that may be a part of the Impact Soccer program.
The parent or guardian grant permission to officials of Impact Soccer to act for them in their best judgement in any situation requiring medical attention.  Furthermore, the parent or guardian hereby waive and release Impact Soccer, the coaches and staff for any accident or injury sustained during the program.
The parent or guardian understand that Impact Soccer and Celtic FC obtain current and appropriate insurance policies covering public liability and professional liability (a copy of this policy can be provided upon written request).
Impact Soccer and Celtic FC have the right to refuse or remove participants from any of its programs if they or their parents or guardians do not adhere to the Impact Soccer code of conduct.
Impact Soccer has the right to cancel or postpone and advertised session times or groups for any reason whatsoever.  Group structure, age groups and session times/dates are subject to change.  Any changes made are at the discretion of Impact Soccer.
Please complete the above menus accurately.
Other Details - Private and Confidential
Please provide any medical information that might affect your child's ability to take part in the coaching sessions. 
Such as, does your child:
have any disability or current medical condition that will impact on their ability to take part.
current take any medication? If so, does your child have this medication with them during the coaching sessions?
have any existing injuries (include when injury sustained and treatment received). If yes, please provide details.
Finally, if there is any other relevant information which you would like us to know about the player (e.g. nominated adult for collection, access rights, disabilities, homesickness, last tetanus injection, arrangements with school etc.), the please provide in writing.