SOLD OUT Celtic FC Elite Player Program - Brisbane 2017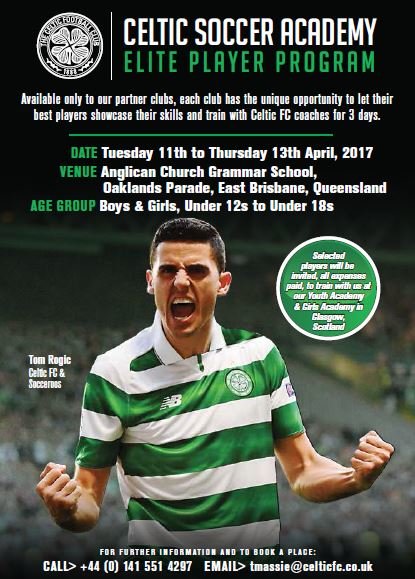 SOLD OUT Celtic FC Elite Player Program - Brisbane 2017
IMPACT SOCCER PRESENTS THE CELTIC FC ELITE PLAYER PROGRAM - Brisbane April 2017
Venue - Anglican Church Grammar School, Oaklands Parade, East Brisbane, Queensland
Dates - Tuesday 11th to Thursday 13th April 2017 (3 Day program)
Summary - 2 nights / 3 days coaching; full bed and board; presentations and speakers from Celtic FC; classroom sessions in small groups; 1 to 1 feedback at the end of the event; Celtic Pro Youth Coaches conducting all training sessions and selected players will be invited to travel, train and stay at Celtic FC's Youth Academy, Scotland all expenses paid.
Groups - Boys and Girls, Under 12s to Under 18s
CELTIC FOOTBALL CLUB ELITE PLAYER PROGRAMME
Congratulations, you have been nominated for the inaugural Elite Player Programme hosted by Celtic Football Club in Australasia. This flagship event will take place over three days and two nights between Tuesday 11th to Thursday 13th April 2017, at Anglican Church Grammar School, Brisbane, Australia and is open to players by invitation only.
The programme will be staffed with coaches from the Celtic's Youth Academy who are some of the finest in Europe and you will experience life as an Academy player at the event. The 3 days will consist of coaching sessions, classroom activity and game time in an environment designed to challenge every player. The Celtic FC coaching staff will select and invite a small group of players to spend a week-long visit with Celtic's Academy, all expenses paid by Celtic.
Once you have registered, you will be sent a player pack are the medical consent forms, important payment dates, an example schedule of events & the player's code of conduct. All important dates are listed within the pack detailing form submission and payment deadline dates which should be adhered to.
Please ensure that the forms are returned to Paul Nelson at Impact Soccer Pty Ltd and not sent direct to Celtic FC - paul@impactsoccer.com.au
We look forward to meeting you at the venue and seeing you on the field in April for an action-packed weekend. In the meantime, well done on being selected by your club for the programme.
IMPORTANT INFORMATION
Total cost: $675.00 AUD
KEY DATES
Registration forms completed and returned to Impact Soccer no later than Friday 17th February 2016
Non – Refundable 50% Deposit: $337.50 AUD (Friday 24th February 2017)
Final payment: $337.50 AUD (Friday 17th March 2017)
PAYMENT DETAILS
Pay using Paypal, credit card or EFT -
Account Name: Impact Soccer Pty Ltd
Account Number: 311959
BSB: 033-018
Please note that payment plans and the return of registration forms should be organised with Impact Soccer Pty Ltd. Celtic FC will not accept individual payments or registration forms directly from parents.
Now you are registering, share with a friend by clicking your social media preference below...