Celtic FC Soccer Academy


Impact Soccer are delighted to have joined Celtic FC's ever-growing International Partnership Programme. The partnership will allow young male and female players in Melbourne, Victoria to be participate in local Celtic FC Soccer Camps but also the Celtic FC's Elite Player Programme.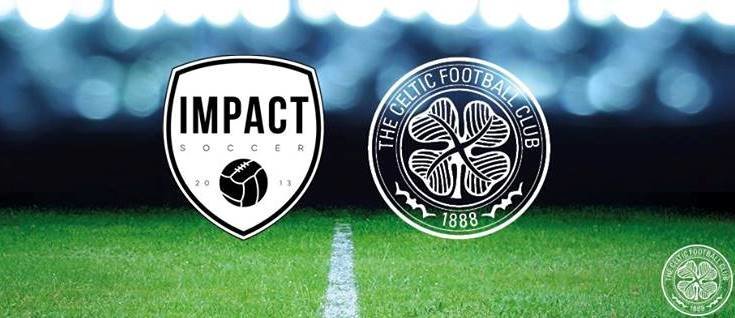 Celtic FC coaches will be in Melbourne for a 3 Day Camp at Salesian College, Chadstone, Melbourne on the 5th, 6th and 7th of April.
This is a unique camp in Australia as the coaches are all from the UK and local coaches. The program is for boys and girls aged 8-17 and split into three time periods:
8-11 from 9am to 10:30am priced at $85 for 3 Day Camp
12-13 from 11am to 1pm priced at $110 for 3 Day Camp
14-17 from 1:30pm to 4:30pm priced at $165 for 3 Day Camp
Not only will this be an outstanding program, but it is exceptional value for money.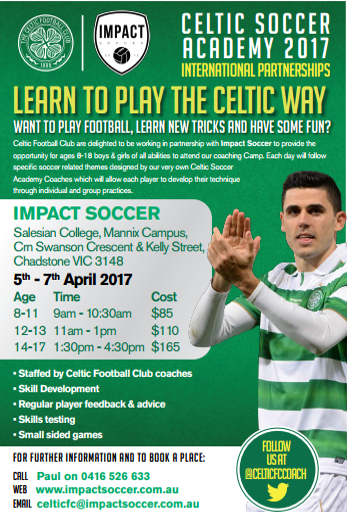 The Elite Player Programme allows invited players the unique opportunity to showcase their skill and train with Celtic coaches. Selected players from this Australia programme will be invited to the Celtic FC Academy in Scotland to train all expenses paid. This is a unique opportunity for all young Australian players.
This year the programme will be held in Brisbane on the 11th, 12th and 13th of April 2017.